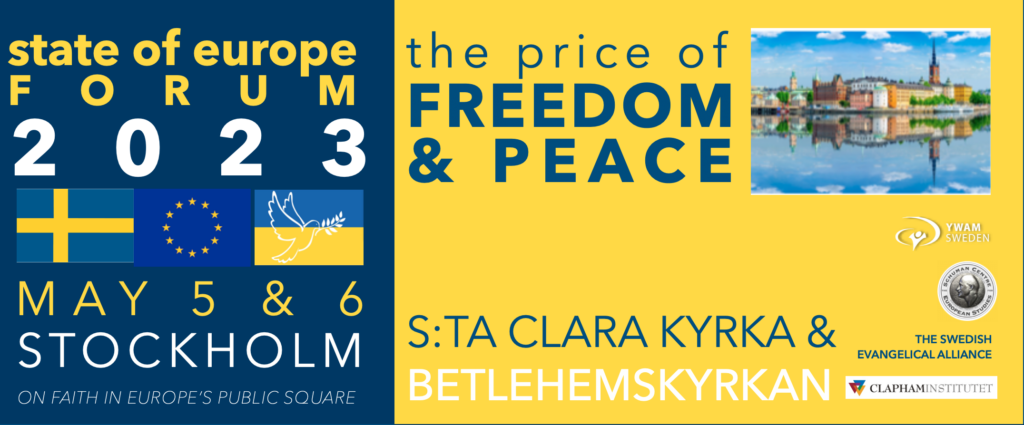 The Schuman Centre for European Studies invite you to Stockholm to join the State of Europe Forum, Friday May 5 and Saturday May 6 2023, to reflect on the theme of 'The price of freedom and peace'.
The State of Europe Forum has been held annually since 2011 (prior to COVID) in the capital of the country holding the EU presidency on or near May 9, Europe Day. On this date in 1950, just five years after the end of war in Europe, the French Foreign Minister, Robert Schuman surprised the world with his three-minute speech in which he laid the foundation of the European house where today half a billion Europeans from 27 nations live together in peace.
This date is officially recognised as Europe Day, the birthday of the European Union. Participants will reflect on Schuman's vision for a community of peoples deeply rooted in Christian values, and on Christian responsibility for Europe's future (see stateofeuropeforum.eu/about/a-community-of-peoples/).
With the Russian invasion of Ukraine last year, challenging the assumptions of the international order which emerged from the rubble of WW2, the Schuman story about how the peace was won becomes freshly relevant. This year's forum will reflect on the role of forgiveness and reconciliation in creating peace. What are the roots of peace and freedom? Whose freedom is at stake in Ukraine? What internal threats to peace and freedom do we face in Europe today? Can secularism lead to peace and freedom? Why is religious freedom the mother of all freedoms? What contribution can faith communities make towards peace and freedom today?
• Participation online is free of charge. Plenaries can be followed on: youtube.com/c/schumantalks, or facebook.com/schuman.centre
• For those attending the Saturday forum in person in Stockholm, there is a fee of 400SEK (€35), including lunch and fika (coffee). Register here.
• The Friday evening celebration will be held in the historic Santa Clara Church, and Saturday's forum will be in the Bethlehem Church.
• Contributors include Dr Hendrik Syse (Oslo), Dr Ruth Nordström (Stockholm), Dr Evert Van de Poll (Nîmes), Dr Mari Blaj (Iasi), Ineta Lansdowne (Riga), Dr Per Ewert, Dr Stefan Swärd(Stockholm), Tunne Kelam (Tallinn), Jacob Rudenstrand (Stockholm), Andreas Nordli (Grimerud), Dr John Hess (Krakow) and Jeff Fountain (Amsterdam). See Programme & Contributors in detail.